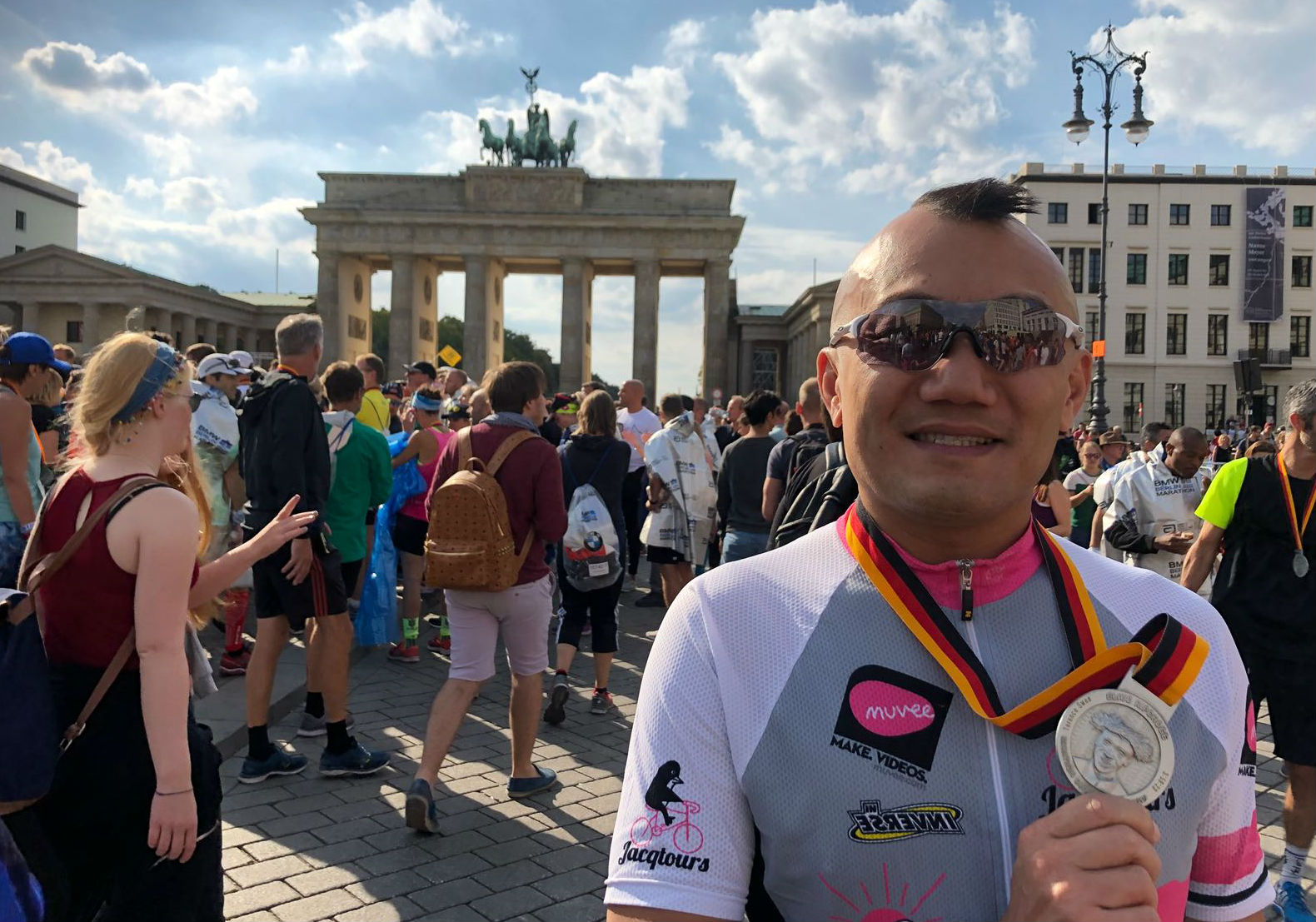 "If you want to maximise your ROI on your limited training time, then you need Morph. Life is too exciting and short to be wasted on junk miles. Only run what you absolutely need to…" Terence Swee (Morph Performance Coached Athlete, Singapore)
Introduce yourself. 
Terence Swee, 46 from Singapore My company invented automatic video editing, and recently, automatic creation of photobooks using AI, so I travel the world licensing our technologies to phone, camera and drone makers. And recently, the customer base has expanded to include photobook and theme-park related companies. So I typically visit all the major markets (Europe, USA, Japan, Korea, China) a few times a year. I spend about 600 hours a year on my ass in a projectile and 180 nights in a hotel or airport.
How long have you been training with Morph Performance? 
Since 2015.
What are your race or athletics goals?
I mostly want to live a full life in spite of my brutal work regime. So I set myself general goals and just for a challenge, some race-specific ones. My general goal is a concept of "any given Sunday"…which basically means I want to be in a condition where I can still be able to have all the wonton mee, foie, cheese and beers I crave and be able to attempt on a whim, without any specific training or preparation, a half Ironman or a sub-5hr marathon.
Why? I believe that the world is a dangerous place…and if I am ever caught in a tsunami or earthquake or stuck on a mountain or volcano, and am not injured, I wanna be a useful survivor, and be able to carry someone and trek/run/limp to the nearest airfield to be evacuated.
In 2018, I was lucky enough to get ballot entry to both the Berlin and Chicago Marathons. So since I am going to travel across two oceans to run, I set myself a specific challenge to clock a sub-4hr marathon. Now that I have achieved that, I'd like to race a sub-13hr Ironman next year and improve my triathlon marathon time to be sub-4:30.
What were your training challenges and pain points before training with Morph?
Without a structured training program, without knowing my lactate threshold and heart rate zones, I was simply running in the dark. Cramps will plague me at the most unpredictable moments, and I would never know why. I used to sign up for races, and start doing some mileage 3 weeks before the race, and predictably, suffer for it.
With Morph's online training program and lab testing, I now know exactly when my fuel system switches from fat burning to glycogen fueling. I know how I feel at which heart rates and how long I will last. I know exactly how much sweat and salt I lose per hour in any given condition, and have never had to worry about cramps again.
Like everyone else, I used to clock many junk miles, following standard training plans available online, or merely joining friends for weekend rides when I can wake up, and how much distance I cover is really up to which gang I am riding with that week! I did my first Ironman when I was a post-grad student. 15 years and 15 pounds later, given my heavy workload and time on the road, I thought doing another Ironman was out of the question.
But in 2015, I got lab tested, started on the Morph program, and prepared for an Ironman in just 4 months, where I got 1.5hrs faster and it hardly affected my lifestyle! And I reckon I only managed to hit 40% of the prescribed training sessions due to my work travels.
Best athletic/race or fitness achievements to date. 
I did a few seconds under 4hrs for the Berlin Marathon 2018, and a 4:04 just three weeks later in a wet and cold Chicago Marathon in a severely fatigued state. (I did both races as part of a 1 month round the world business trip!)
How did training with Morph change your approach and mindset to training?  
Morph Performance's focus on effective and efficient training, lab testing, and customized training programs based on data appeals to the engineer in me. Now I actually look forward to training because I know I only need to do so much, to achieve my goals! My travel lifestyle has changed slightly to accomodate the training goals…so much so that I now search for hotels for my trips using elevation maps!
When a business trip stretches over a weekend, I find myself planning on which city I should spend that weekend in, so that I can hit my weekend long run and elevation goals! The weekday trainings were very manageable, typically only 45 mins, 2 to 3 times during the weekdays.
I am now very acquainted with the fire escape stairwells of hotels in Tokyo, the hills in the Presidio, Hampstead Heath, Central Park and Sacre Couer…I now start each race very confident, knowing exactly how I will feel at each mile, how fast I can go, when to take a gel, and what time I will get back from the race for the real breakfast!
What's next for you in training or racing? 
I usually don't plan ahead for my races…it really depends on which city I will be in…(and that's typically only planned 2 weeks ahead). At this point, I know I have a Tokyo Marathon slot in early March 2019…and I hope to do a full Ironman next year, probably in Europe in summer… as for training, I want to get to a state where I consistently complete a sub-4hr marathon comfortably.